After weeks of testing products, from drugstore products to more expensive brands, we have compiled five of the best ways to get rid of acne once and for all. And no, Proactiv isn't on it.
1. Neutrogena Body Clear Body Spray
It's almost swimsuit season, and that means a soft, bump-free chest and back is a must. Chest and back acne is one of the most annoying types of acne and seems like the hardest to get rid of, due to being some of the more sweaty areas on our bodies. But, your problems are about to hit the road.
We are 100% in love with Neutrogena's Body Clear Body Spray. Seriously. Spray it on your back, shoulders, chest, and other problem areas before you go to bed, and you'll already see results in the morning. The second we're starting to see the bumps come back, we apply it and they stay away for good. Have a problem area on your face? Spray some in your hand and rub it on there, too. This stuff is a miracle in a plastic spray container.
Get it at any local drugstore, or here for $7.64.
2. Neutrogena Oil-Free Acne Wash Salicylic Acid Acne Treatment
Once again, another awesome Neutrogena product.  If the body product worked like magic, we thought why not try the face product of the same line? If used every morning and night, this product does wonders just as the body acne spray does.  We've tried numerous other face washes, but after skipping the fancy colors and scents, this Plain Jane stuff does it best.
Get it at any local drugstore, or here for $8.99.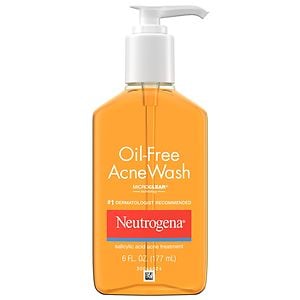 3. Neutrogena On-the-Spot Acne Treatment, Vanishing Formula
Okay ladies, one more — we promise. We definitely didn't plan it this way, but Neutrogena is really taking the cake with working fast and effectively. When you want a pimple gone fast, this product is one that will easily fit in your purse or travel bag and makes the pimple less red and less in-your-face overnight. Having problems during the day? Put a light coat on the problem area, then apply your make-up over it for it to work all day long.
Get it at any local drugstore, or here for $7.19.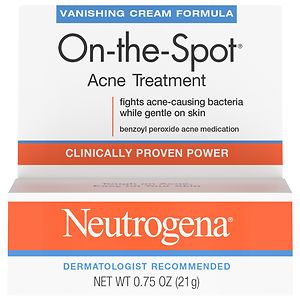 4. Stridex Daily Care Maximum Soft Touch Pads
These pre-soaked acne pads are great for really clearing out your pores and allowing your skin to breathe. We didn't notice a huge difference using these pads by themselves, but by lightly using them on problem areas then using the face wash above, we saw great results. Our skin felt crisp, clean, and the acne disappeared faster than ever before.
Watch out though — these pads do burn a little and are way more intense than any of the other products we've mentioned, so don't use them every single day.
Get it at any local drugstore, or here for $7.94.
5. SUPER Acne Solution
Now, this one isn't cheap, but it does work. Amazingly. All of the products in the SUPER line (we love "Acne Solution" and "Free Zone") are a super gentle remedy to acne that doesn't leave your skin burning.  It not only smells great, but is formulated with Quercetin, an antioxidant found in apples. The doctor did say an apple a day, right?
Although these products are more pricey, they're definitely worth the extra dough. Blackheads? Gone. Dry, flaky skin from all of the harsh treatments? No way. Put this cream on when you wake up in the morning and before you go to bed for quick, easy results.
Get it here for $38-$50.
What acne solutions do you swear by? Let us know!