It's time for my beauty roundup once again! If you have any beauty products you've been dying to try, comment below and I will be sure to feature them in my next roundup!
Clean and Clear Continuous Control Acne Cleanser: Now that the weather is going to be warming up, it means I have to take extra care of my face. This product is made with benzoyl peroxide. It's the same main ingredient that is made with Proactiv, so I feel like I'm getting the same product for less. It has 10% of the benzoyl peroxide, which is very strong for an over-the-counter product and can lead to drying, so I suggest you use moisturizer after you use it.
I really like the tingling feeling after using the face wash, which may be bothersome for people so if you're sensitive to that, don't use it. Because there's so much peroxide, it actually can bleach clothing, pillow sheets and towels if you don't wash all of it off so beware of that as well; I just use an old towel to dry my face. Overall, I think this does a pretty good job. I don't break out that much (it's usually one or two blemishes) but I think it does a pretty good job at controlling the oil on my face, which is what I really need. ($6)
Essie Nail Polish in "Chinchilly": I know I said that I wanted to try for more spring colors, but my friend gave me this as an extremely belated birthday gift. I really like this color and it was good that it's been rainy and cold because this definitely seems like a fall shade to me. The color is primarily grey with undertones of purple and taupe. First off, the formula is a little watery. I don't know if I got a defective one, but I was looking around for other reviews and it seems like it's just the formula. After two coats, I got the color I wanted followed by a clear coat. It was also a little streaky — probably because it's so watery. But overall, I really like the color and will continue to use it. ($8)

E.L.F. Essential Shine Eraser vs. Clean and Clear Oil Absorbing Sheets: I have a really oily face which means that I always carry around oil absorbing sheets. I've tried the E.L.F. sheets as well as the Clean and Clear sheets, and I have to say that the Clean and Clear one is better. I think that the E.L.F. ones are a little too thin. It is almost like the material is like the gift wrapping tissue. I've read before that you can actually use those too, but I like the material of the Clean and Clear ones better. I also like to see how much oil the tissue is absorbing, which you can't see with the Elf ones. However, like I said before, I have a really oily face, so if you have minimal oil I would suggest the E.L.F. ones because they are good on your wallet as well. ($1) ($5)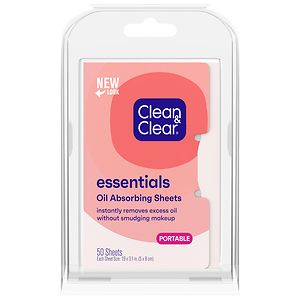 EOS Medicated Tangerine:
This was actually really hard to find! I actually found the EOS Medicated Tangerine lip balm randomly going to the store. I really wanted to try it, so I was excited to use it right away. The first thing that drew my attention was the smell. I think it smells OK — it smells like oranges but it also has a medicated smell as well, which I didn't really like. After using it for a while, I realized that it doesn't really feel any different than the Mint EOS lip balm that I also have. I think it does help a little bit when it comes to medicating, but it's nothing the other lip balms can't do so I'm going to have to say I didn't like this product all that much. For chapped lips, I suggest the blue Blistex lip balm, which helps the best when I am dealing with chapped lips. (And it's way cheaper!) ($6)
For the next beauty haul, I'm thinking of doing only homemade beauty products, which includes face toners and pore strips. I will also tackle the uses of coconut oil, which is becoming increasingly popular.
Some Beauty D.I.Y. Fun: Want to learn how to make the makeup and brush holder see in the featured image? Click here on how to make it.